Introduction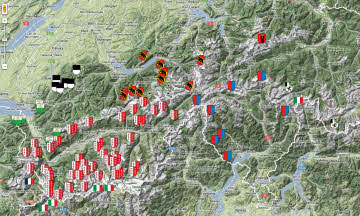 Click on the image to open a large overview of all hikes and pick one through its location on the map.
The hikes described on this site all have a common point: they are day hikes. Their duration never exceeds 6 hours for the ascent, which means that if you leave reasonably early, you will be able to be back in the valley at the end of the afternoon. It is a good idea to start early in the morning, especially when the hike is long, or if the first part is steep and exposed to the sun.
The purpose of these pages is to suggest interesting tours. They are not intended to replace a detailed hike description written by a specialist (check out the bibliography for this). Also, they do not exempt you of carrying a good map while on the trail. I cannot guarantee the accuracy of the informations delivered by the site, some tours having been completed several years ago. Also I shall decline any liability for accidents and casualties. For general recommendations about safety and dangers, please consult other books, for example those from the Swiss Alpine Club, because I do not feel competent to write about that. I'll just remind you the essential things to know:
Duration: the duration is given only for the ascent, unless explicitely stated otherwise (e.g. for a circuit). It usually takes half the time for the return into the valley. The duration should be considered as nothing more than an indication. The effective time depends on the conditions and on your physical shape (particularly if you are a computer engineer like me whose most developped muscle is the one that activates the mouse button).

Access (start): some trails start in places that are difficult to to reach using public transportation. Those who do not own vehicle should pick the hikes leaving from villages (e.g. Arolla, Zinal, Zermatt, Grindelwald).

Clothing: in the mountains, the weather can notoriously change very quickly during the course of a day. I am lucky enough to be able to decide the night before whether a hike should be undertaken or not, depending on the weather forecast. This is obviously not the case if you are visitors staying for a limited time at specific dates. In any case, always be prepared for the worst. Almost all the hikes on this site have been done in perfect conditions. One important thing: mountaineering boots are essential!

Food supply: although most huts are guarded, don't rely on that for food and beverages. Early or late in the season, there might be no guardian at all. Less visited huts, like the Refuge des Dents du Midi, don't have anybody. Get informed before you leave. Or better: carry all you need with you. I recommend taking plenty of water, and energetic bars. Since lots of sheep and cows populate the alpine meadows, some very high up, I don't think it safe to drink water from streams without additional treatment.

Weather: this important subject is handled on a separate page.

Maps: so that the hikes can be visualized more easily, maps snippets should be provided. A tour description without map is like a recipe without picture: far less enticing. The legal dispositions on copyright and data protection having changed in 2010 - in a positive way, e.g. to the benefit of the final user - new possibilities have appeared. I could finally provide map fragments at 1:100'000, 1:50'000 and 1:25'000, all exported from the digital product SwissMap. Online, one can now browse through the complete Swiss territory thanks to the web portal http://map.geo.admin.ch. The tour profile, also created with the SwissMap DVD, has to be taken with caution: the scale between several hikes being not the same.

Difficulty: I've finally adopted the new official rating for mountain hikes established by the Swiss Alpine Club [Update 27-Oct-2007]:

| | |
| --- | --- |
| T1 - Valley Hikes | Paths are well cleared. In case they are marked according to SAW standards: marking is yellow. Flat or slightly sloped, no danger of falling. Requirements: None, tennis shoes are fine. No problem to get oriented, even without a map. Tour examples: Männlichen - Kleine Scheidegg, Hut path to Jura Hut, Cabane Mont Raimeux, Strada Alta Leventina, Vermigel Hut. |
| T2 - Mountain Hikes | Paths with continuous marked-out route. In case it is marked according to SAW standards: white-red-white. Sometimes steep, danger of falling possible. Requirements: Sure footedness sometimes needed. Trekking shoes are recommended. Basic orientation skills. Tour examples: Wildhorn Hut, Bergsee Hut, Täsch Hut from Täschalp, Passo Campolungo, Capanna Cristallina from Ossasco. |
| T3 - Challenging Mountain Hikes | Paths are not always visible. Exposed sections can be safeguarded with ropes or chains. The hands might be needed for balance. In case the path is marked: white-red-white. Can have exposed sections with danger of falling, scree slopes, pathless craggy ground. Requirements: sure footedness, good trekking shoes. Average orientation skills. Basic alpine experience required. Tour examples: Hohtürli, Sefinenfurgge, Fründen Hut, Grosser Mythen, Pizzo Centrale from Gotthars pass. |
| T4 - Randonnée alpine | Path traces are not always present. Some sections require the use of hands. In case paths are marked: white-blue-white. Grounds are relatively exposed, tricky grass slopes, craggy ground, simple firn fields and snow free glacier sections. Requirements: Stable trekking shoes. Basic ability to judge grounds and good orientation skills. Alpine experience required. A sudden change in the weather can make a retreat/fallback difficult. Tour examples: Forno Hut, Schreckhorn Hut Dossen Hut, Mischabel Hut, section Voralp Hut - Bergsee Hut, Vorder Glärnisch, Steghorn (ladder), Piz Teri, Pass Casnile Sud. |
| T5 - Randonnée alpine exigeante | Often without paths. Some easy climbing sections. In case it is marked: white-blue-white. Exposed, demanding grounds, steep craggy ground. Danger of slipping on glaciers and firn fields. Requirements: Climbing boots. Experienced to judge grounds and very good orientation skills. Good alpine experience also in high alpine areas. Basic knowledge in the use of pick and rope. Tour examples: Cabane Dent Blanche, Büttlasse, Salbitbiwak, Sustenjoch North flank, Bristen, Pas Cacciabella. |
| T6 - Randonnée alpine difficile | Mostly without path. Climbing sections up to II. Paths are not marked most of the time. Often very exposed. Tricky craggy ground. Glaciers with increased danger of slipping. Requirements: Excellent orientation skills. Advanced alpine experience and well acquainted with the use of technical alpine appliances. Tour examples: Niesen ridge (Fromberghorn North), Glärnisch Guppen ridge, Via alta della Verzasca. |




Being subject to giddiness myself, none of the tours on my website here require roping-up or crossing dizzy precipices. Except for 2 or 3 hikes, all are rated between T1 and T3.

Since Google Earth has arrived, it has unlocked a new and amazing possibility: the ability to visualize, even simulate, a hike on one's computer. All you need to do is download the KMZ file that is linked with each hike report. Many thanks to Michel Blondeau for his work on these files.

You can also easily import all the hikes of this site in a folder of Google Earth. Just download and open the file noth.ch.KMZ

This file will be kept up-to-date when new hikes are added to the site.