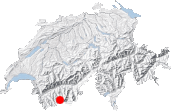 In short:
Maps:
Links (click on flag):
Bricola Hut, by the Scottish climber Derek J.B. Reid. The page is taken from his website Mountaineering in Europe's Alpine Regions (Easy high mountain walks and climbs in the Swiss, Italian, French & Austrian Alps).
Bricola, glacier des Manzettes
This hike suggestion will be replaced by a more strenuous hike.
At the very end of the wild and relatively unspoilt Hérens valley, the village of Ferpècle itself is worth a visit. It is the starting point of an easy hike in the shadow of the mighty Dent Blanche.
If you are travelling by public transport, take the Post Bus to Ferpècle (Le Salay) in the Herens Valley at an altitude of 1770m. From Le Salay, take the path that is signposted to Bricola. If you have a motor vehicle, it is possible to drive 700m further to a parking place where the road forks, at a spot height of 1828m on some maps. The right fork leads to a concrete bridge for the hydro-electric works only. Take the left fork and walk up the road, which is closed to all except authorised vehicles. You pass the Buvette "le Petit Paradis" after about 5 minutes then a few meinutes later, a path leaves the road on the left with a sign that shows a height of 1885m and time of 1:25 to Bricola. Go steeply uphill parallel to a ravine. At an altitude of 1990m, you join the main path that comes up from Le Salay. Turn right and continue up to Bricola at 2415m. Here, there are some stone huts and a three storey building with locked doors and closed shutters.
Continue up the path following signs to Cabane Rossier Dent-Blanche (CAS). At an altitude of about 2600 m, the path starts to go up the crest of a moraine. After about one hour's walk from Bricola, you reach an altitude of about 2690m, where the path starts to go away from the crest of the moraine. Here there are good views of Dent Blanche and the Manzettes Glacier but if you go any further, the view becomes more restricted so this is probably a good place to turn back.
Return the same way, reaching Bricola after about 45 mins. Descend from Bricola for about 50 mins to the point where the path crosses a ravine with warning signs about sudden surges of water. To get to Ferpècle (Le Salay) continue straight on across the ravine. To get back to the parking place at 1828m, turn left on a path without a sign post to reach the parking place in about 20 mins.