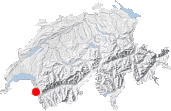 In short:
Maps:
Links (click on flag):
Cabane de Susanfe, Pas d'Encel
At the modest altitude of 2102 m (6895ft), the Susanfe cabane is snugly tucked away in a quiet little valley. Surrounded by the Mont Ruan firns and other peaks over 3000 meters high, you nevertheless feel that you're far up in the mountains.
This hike is included in part in the Tour des Dents du Midi itinerary. It can be extended - on the same day or following a night in the cabane - via the Col de Susanfe and then up the Haute Cime. The latter summit won't be dealt with here since I've already visited it.
You start off from either the resort of Champéry or, if you're lucky enough to have a car, the place called Grand Paradis (a camping ground and a big car park for an alpine skiing resort). The hike that I describe here is based on a departure from Grand Paradis (1055m, 3460ft). In summer, there could be buses from the village of Champéry, just ask around.
You may be tempted to park at Barme (1492m, 4895ft), which appears to save a good amount of upward walking, but the route leads to about 1800m (5905ft) and then leads back down to the chalets below Dent de Bonavau - all in all, the route is longer, and I know that from experience, when I was a kid! On the other hand, I've been told in an e-mail that there's a good car park 2 km from Grand Paradis on the way to Barme.
The signs at Grand Paradis that read "Susanfe" and "Bonavau" first lead you for a few minutes along a gravel road that makes its way upward to Les Clous (a few chalets) and then a path that zigzags through a forest. The end of this path meets a tarred road that gives you no sign of what direction to take to get to where you want to go. It turns out that you have to walk a few hundred meters up the road until you find the second part of the path.
30 minutes later, you come upon another road that isn't tarred. Take it, because this is the one that leads you directly to Bonavau. To avoid all bends, there are some short-cuts. This forest path is a dead-end but gives way to smaller trail that gets you to Bonavau very quickly. In my opinion, it's only at this point that the excursion gets enjoyable. Once you've left the forest, you finally have a vast view: beyond Pas d'Encel is the splendid flank of Mont Ruan, covered with snow in June. And there's no longer the noise from the Val d'Illiez traffic.
At Bonavau (75 min. from Grand Paradis), there are many sorts of flowers at the forest's edge, a few animals (including a donkey), and a chalet where, as a rule, you can eat and drink. though, on the day that I was there, it wasn't possible - too early in the season? The building was brand-new - from what I was able to make out from the people sitting around Bonavau, the old refreshment bar had burned down...
Now it's time to walk to the rocky gorge of Pas d'Encel. Along the flanks of La Dent de Bonavau, the route gradually gets higher. There may be one or two firns at season's start. Carved stone steps with cables and chains lead to the narrow passage of Pas d'Encel. You may feel your adrenalin rising here but there is no place tricky enough to make you feel that fear-of-heights. But I will point out that going down this kind of passage is always more intimidating than going up it.
A foot-bridge crosses the stream of La Saufla, which is canalized by a small damn that's not very esthetic (2 hr 15 min). When the sun's scorching, the refreshing breeze coming down from snow-covered Mont Ruan and rushing through Pas d'Encel is very welcome. And this is also the only point between Bonavau and the cabin where there's a little shade.
Through Pas d'Encel you enter a valley shaped like a "U" - there's a stretch of mountains on both the north and the south sides and the Col de Susanfe closes it off on the east. A 30-min climb up the left flank leads to flatter land. From there, the walk along the bottom of this valley to Cabane de Susanfe is fairly effortless. On your right are Petit Ruan and Mont Ruan, especially beautiful at spring's end. I wonder whether they're equally impressive in the middle of the summer... They're only 3000 meters high but I'm surprised to see firns and a hanging glacier; maybe the explanation lies within the fact that they are both north faces.
Though guides make it shorter, it took me 4 hours to get from Grand Paradis to the cabane. The way back down is along the same route and takes about 2 hours 30 minutes. It was very hot and my phsyical shape was poor on that day. If you manage to do it in less time, it'll get you nowhere to send messages to make fun of me and my computer-engineer's muscles :-)