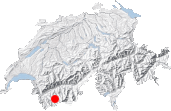 In short:
Maps:
Links (click on flag):
Cabane des Dix
The Cabanes des Dix (2928m, 9606ft) is located at the south end of the lake of Grande-Dixence. Its barrage is said to be the highest in Europe.
At a place called Le Chargeur, just under the enormous barrage wall, a small cable car takes the visitors for a few swiss francs to the lake level. Even the fanatic hikers should take advantage of it to avoid an uninteresting walk, though early in the morning the installation might not be open yet. You should take notice of the closing time too: this hike is peculiar in the sense that there is a totally flat part along the lake and the way "down" will take almost as much time as the way "up" (usually it is only half as much). Thus you might be surprised how long it takes to return to the cable car.
After passing through several unpleasant dark and dripping tunnels, you will walk on a wide and flat trail for about 1 hour and 40 minutes until you reach the other end of the lake. A few fierce Herens cows were grazing on the lake shores. As the name implies, this breed originates from this valley (but I have read that it can be seen in Italy too). It is famous for its combativeness, and indeed some of the cows seen along the trail were not grazing peacefully, instead they were engaged into friendly but impressive fights. Probably a kind of training for the very popular "combats de reines" (queen fights), which are hold regularly down in the valley. Othere animals that can be often heard and sometimes seen here are marmots.
The lake had a very milky colour in this month of september. The cascade that feeds it, at the lake's other end and 2 hours away from the hut, is the place where the trail forks right and begins to gain some height, first through alpines meadows, then on a moraine. Instead of going round a black mountain called Tête Noire, following the glacier's right bank as it was the case a few years ago, the trail goes towards a rocky saddle. Several peaks begin to appear to the west, the Matterhorn and the Dent Blanche being the easiest to name. Once the saddle has been reached, the hut is now within sight, just 5 minutes of a gentle downhill away. Magnificent location very close to the north face of Mont-Blanc de Cheillon.