Valais
A wonderful region south of the country, definitely my favourite. A microclimate makes it Switzerland's sunniest region, together with italian-speaking Ticino.
Famous abroad for its wine and fruits, and for resorts like Zermatt, Verbier, Saas-Fee. I personally prefer to hike in less touristic places, like the Val Ferret, just at the border with Italy and France. Other authentic valleys are Val d'Hérens, Val d'Anniviers and Val de Bagnes.
Click on the image to open a large overview of all hikes in the Valais and pick one through its location on the map.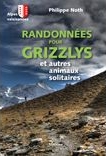 The 25 most lonely hikes of the Valais region have been collected for a book published in May 2013 (Editions Slatkine). Since the guide will soon be 5 years old (and since you had time to buy it), I decided to translate and put online all hikes of the book. This will be done progressively during spring 2018.