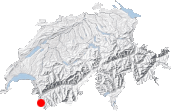 In short:
Maps:
Links (click on flag):
Cabane de Saleina (Saleinaz)
Because not easily accessible, the Cabane de Saleina (2681m, 8796ft), located in the Val Ferret, is a less popular excursion destination than nearby Orny, Trient and A Neuve. Your efforts will, however, be rewarded by peace and quiet as well as the Glacier de Saleina's seracs.
The starting point of this hike is a site named the Prise d'eau de Saleina (1510m, 4954ft) and, because it is not served by public transport, you had better have your own vehicle. From the village Praz de Fort, a narrow road crosses the Dranse de Ferret and leads to a small barrage (see photo #3). This place has little space for cars. Since it also attracts few visitors, you might nevertheless find a spot for your car. As a rule, a place can be found in the final zigzags under the cabins. A sign informs you that the Cabane Saleina can be reached in 3 hours and 20 minutes; the Cabane Orny in 3 hours and 30 minutes; and the Praz de Fort in 50 minutes.
If you come by postal bus, your hike will begin at the Praz de Fort, 500 metres (1640ft) lower. According to what I was told by another hiker whom I had met on that day, that means 30 more minutes and it is no picnic. If the trail is really unpleasant, maybe it is a better idea simply to take the road instead...
Access to the Cabane de Saleina may be difficult, but at least you know what you are in for from the start. The area is made up of smooth rocks, seen clearly in photo #3. You walk along an old moraine, between broad-leaved trees and conifers, and, 30 minutes later, you reach the notorious slabs. It takes 25 minutes to cross them, 25 minutes of climbing made easier by chains and holds cut into the rock. The way up is mainly a matter of hoisting yourself; the way down is a more delicate matter because you have to keep looking down, which is something that I do not like to do.
Personally I felt better once I had reached the next section: Plan Monnay, which is 1 hour and 15 minutes from the barrage. It is a magnificient slope covered with bilberries and rhododendrums. It is the ideal place to recover while contemplating the Grand Combin in the distance, the Clocher du Portalet right in front of you, and the Glacier de Saleina below the path. The glacier's bergschrund is particularly beautiful. Those whose eyes are open especially wide will have spotted the hut (see (photo #4).
As you walk along the moraine overhanging the seracs by several hundreds of metres, the path makes a left and leads you to the Clochers des Planereuses. You will make your way very closely past the foot of the bold peaks (see photo #5), so closely that those curious enough can go and check out the indentation between them (the Col du Petit Clocher des Planereuses).
For nearly an hour, you will have been walking on stones instead of grass. After 2 hours and 25 minutes, you will be glad to notice that you are almost at the same height as that on which the hut is found. Things are easier now. The path stretches horizontally (snow that has not melted on some years) and then zigzags toward a hillock. That is followed by another flat stretch across big boulders and the last steep zigzags. 2 hours and 50 minutes later (3 hours and 20 minutes if you count breaks), your first foot steps on the balcony of the Saleina hut. By the way, 3 hours and 20 minutes is precisely the time mentioned on the sign where I had parked my car.
In September, the hut is no longer wardened. I am completely on my own. From here, you can see the Glacier Saleina in its entirety as well as two towers that are nearly 4000 metres high: the Aiguille d'Argentière and the Aiguille du Chardonnet.
Getting back down took me 2 hours and 40 minutes, that included 45 fairly creepy minutes of extremely cautious negotiating with smooth rocks. Without a doubt, hikers who are more daring will require less time.