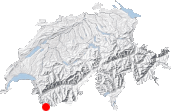 In short:
Maps:
Links (click on flag):
Report and pictures on Randomandie.ch.
This same hike, reported by Pierre-Alexandre on his webspace which contains 89 tours in the Mont-Blanc region
Lacs de Fenêtre, Monts Tellier
A roundtrip between Switzerland and Italy... if you are a smuggler, this will be your favourite hike :-)
[Additions (italics) courtesy David Lauder, Nov-2005]
You start at the Grand St-Bernard pass. This place is famous for its dogs and I believe there are still breeding kennels that can be visited.
The pass is already at 2360m (7742ft) and the highest point of the whole trip is at Col des Bastillons (2757m, 9045ft). So, unless you decide to include Mont Tellier (2951m, 9681ft) in this hike, there won't be any tough climb. Rather it's going up and down repeatedly. If done in the described direction, the hike's difficulty will go increasing. Walk down the road on the Italian side of the pass and take a path that bypasses an avalanche gallery. At the first farm, take the paths numbered 13A, 13C above the farm building. At an altitude of approx. 2490m where the path forks, take the right fork, No. 13A. From here, an easy trail heads towards the Fenêtre de Ferret. The lakes are reached after only one hour, so this part could be done by inexperienced hikers too.
"Lac de Fenêtre" translates into "Windows Lake", but don't worry. Despite its name, the lake is not as hazardous for your safety as the Operating System! Another attraction is the view on the Mont-Blanc massive, especially the needle-like Pointe Walker in the Grandes Jorasses, as well as the Mont Dolent.
The whole tour crosses three passes: Fenêtre de Ferret, Col du Bastillon and Col des Chevaux. From the second one, it is possible to climb Mont Tellier, although there isn't always a clearly marked trail. This adds one hour to the total time. If your time is short or if your priority is a pleasant hike rather than physical exercise, I recommend you do the very first part of the hike, i.e. to Fenêtre de Ferret and Lacs de Fenêtre, and then back. It's the easiest part and sufficient to get to see the Mont-Blanc.
From Lacs de Fenêtre, take the path signposted to Pas de Cheveaux, Col du Bastillon 2761m. From Col du Bastillon, descend to a path junction at an altitude of approx 2670m. A painted arrow points straight on to Grd-St-Bernard but there is also a path to the right which is shown on the Carte Nationale. It is waymarked but not signposted. This is an alternative higher level path from Col du Bastillon to Pas des Cheveaux which does not drop below 2570m, whereas the main path descends to 2440m. The higher path may save you some effort but it is unlikely to save any time because it is narrow in places and not well maintained. The higher path contours a lot of scree slopes, some of them loose and it also includes a short scramble with a fixed rope. It is intermittently waymarked, it would not be easy to follow in poor visibility and is best avoided if there are snow patches on the path. Even in clear weather with no snow patches, it is probably better to stay on the main path even though it involves an extra 130m of descent and re-ascent.