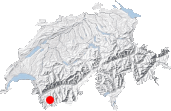 In short:
Maps:
Links (click on flag):
Cabane François-Xavier Bagnoud (Panossière)
The Cabane de Panossière (2669m, 8756ft) was destroyed by an avalanche a few years ago. A new hut has been built approximately on the same spot, now called François-Xavier Bagnoud. Incredible views on the Corbassière glacier and on the Grand Combin, one of the major European mountains.
[The detailed report of this hike has not yet been written, I only have photos. This route description is courtesy David Lauder, Nov-2005]
Fionnay or Mauvoisin can be reached by Post Bus. This walk can also be done as a circuit by taking the Post Bus to Mauvoisin and walking down to Fionnay but to do this, you probably need to leave a vehicle at Fionnay as there may not be enough time between the first bus that arrives at Mauvoisin and the last bus that leaves Fionnay. From Mauvoisin, a snowfield has to be crossed below the Col des Otanes. The description of the route from Fionnay follows.
From Fionnay, the first part of the ascent is steep and in hot weather, it is a good idea to avoid the sun by starting very early (7-8 a.m.). Nevertheless, the first part of ascent, up to about 1950m is on a North-West facing slope and much of this path is in shade until after 11:00 a.m.
In the centre of Fionnay village at spot height of 1489m on the Carte Nationale, there is a sign to "Panossière 3h45". Go over the wooden bridge then turn right along a tarmac road for about 100m then turn left onto a footpath signposted "Chemin pedestre", by a small bridge with CAS painted on the bridge parapet. The path climbs quite steeply and after about 1 hour, you reach an altitude of about 1820m where the path turns left and "Panossière" is painted on a rock. At an altitude of about 1970m, there is a sign "FXB Panossière, iténeraire d'hiver" (François-Xavier Bagnoud Panossière, winter route). At an altitude of about 2100m, follow the summer walkers' path which is waymarked with red paint, not the iténaire d'hiver. At 2150m, there is a sign "Mon Repos, alt. 2150m" with a large wooden picnic table and open views of the Grand Combin. At an altitude of approx 2250m, there is a path junction with signs to Panossière or Le Maye, Brunet. Continue to Panossière at 2645m. Return by same route. The lower part of the path down to Fionnay is muddy in places so the descent could be slippery when wet.